Portuguese are the most optimistic about the impact of science and technology on society
Half of the Portuguese respondents to the new Eurobarometer survey on "Knowledge and attitudes of European citizens towards science and technology" considered the impact of science and technology on society as "very positive". The study shows that the scientific literacy of the Portuguese increased from 20% in 2005 to 58% in 2021, exceeding the European average.
Portugal now leads the group of countries with greater interest in science and technology topics. In 2010 only 14% of respondents showed interest in these matters, a very different number from the 62% who responded affirmatively in 2021. Almost 30 percentage points separate Portugal from the European average (33%). Almost half of the respondents (49%) said that the influence of science and technology on society is "very positive".
Visits to science centres have also soared since 2005, rising from 6% in 2005 to 59% in 2021. Portugal ranks second in the chart of regular visits to these spaces, only surpassed by Estonia. The existence of a National Network of Ciência Viva Centres contributes to these results.
Europeans believe science will improve their lives in the next 20 years
Overall, the survey reveals that 9 out of 10 EU citizens (86%) are optimistic about the global influence of science and technology. Europeans are hopeful that developing technologies will have a positive impact on our way of life in the next two decades, such as solar energy (92%), vaccines and fighting infectious diseases (86%) and artificial intelligence (61%).
The results also show a great interest of citizens in science and technology (82%) and a willingness to learn more about it in public contexts (54%). When asked about the areas of research and innovation that can make a difference, Europeans frequently mention health and medical care and the fight against climate change. These results are aligned with a growing interest in new medical discoveries, which has increased from 82% to 86% since 2010.
The most recent Eurobarometer is the largest to date on science and technology in terms of the number of participants (37,103 respondents) and countries covered (38 countries, including EU Member States, EU enlargement countries, EFTA states and the UK). Fieldwork took place between 13 April and 10 May this year.
Eurobarometer results are available here
Scientific Literacy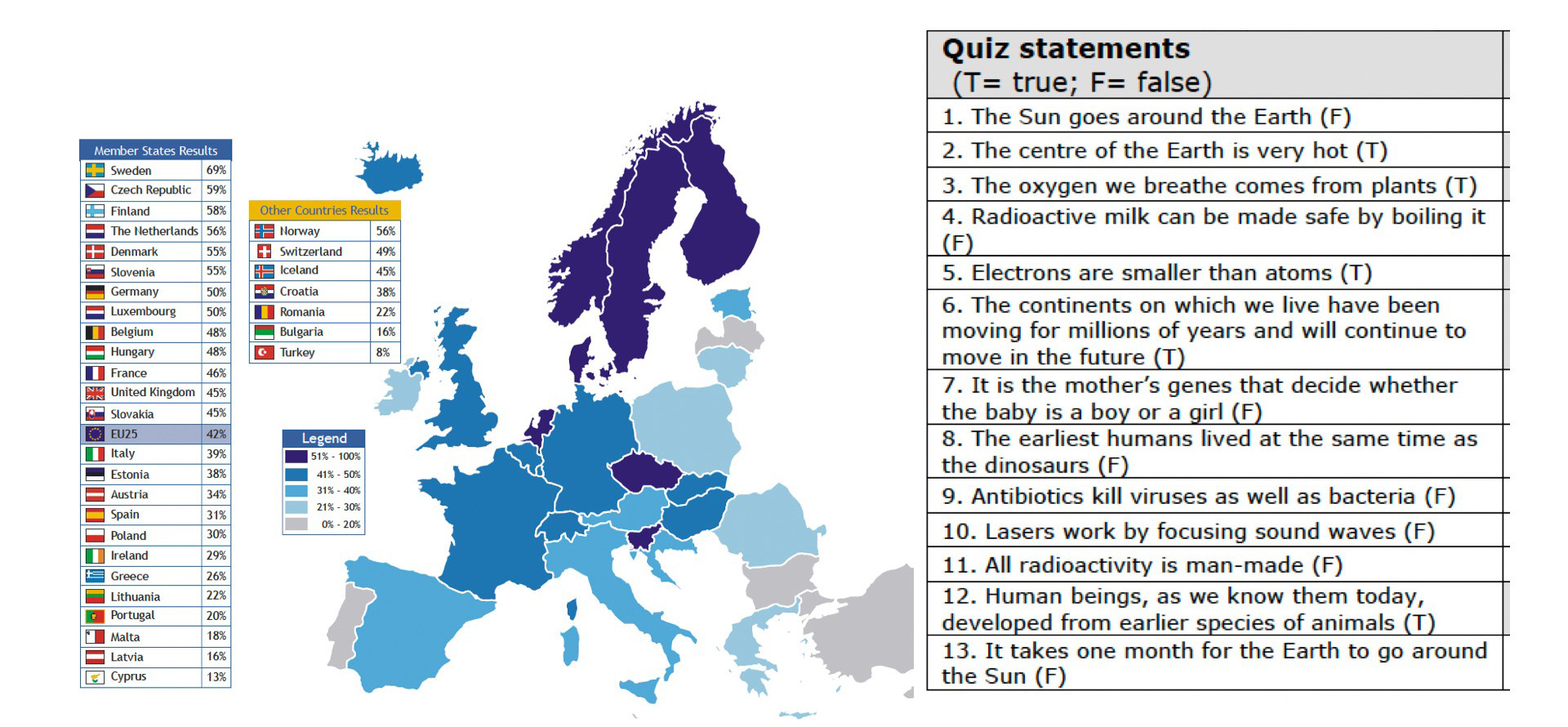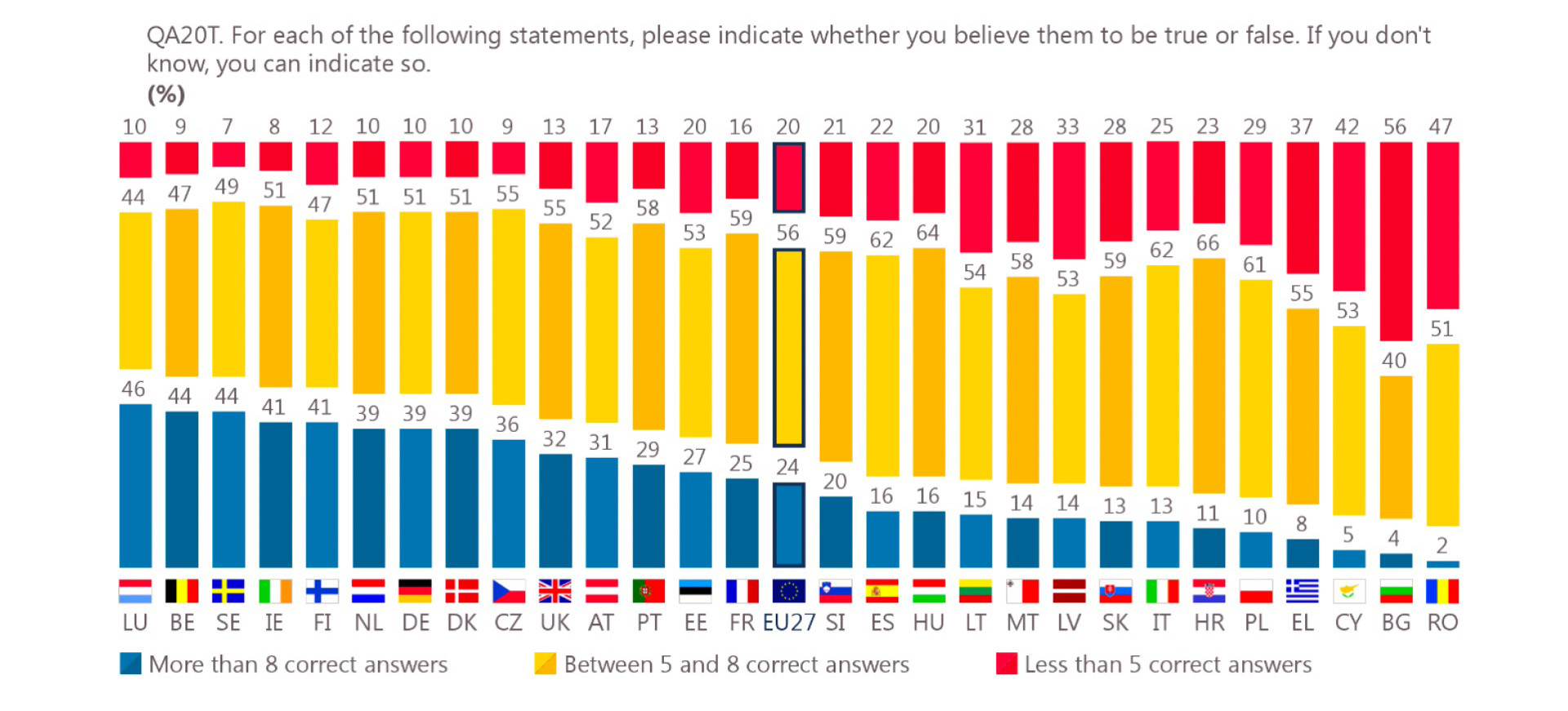 Interesse about scientific developments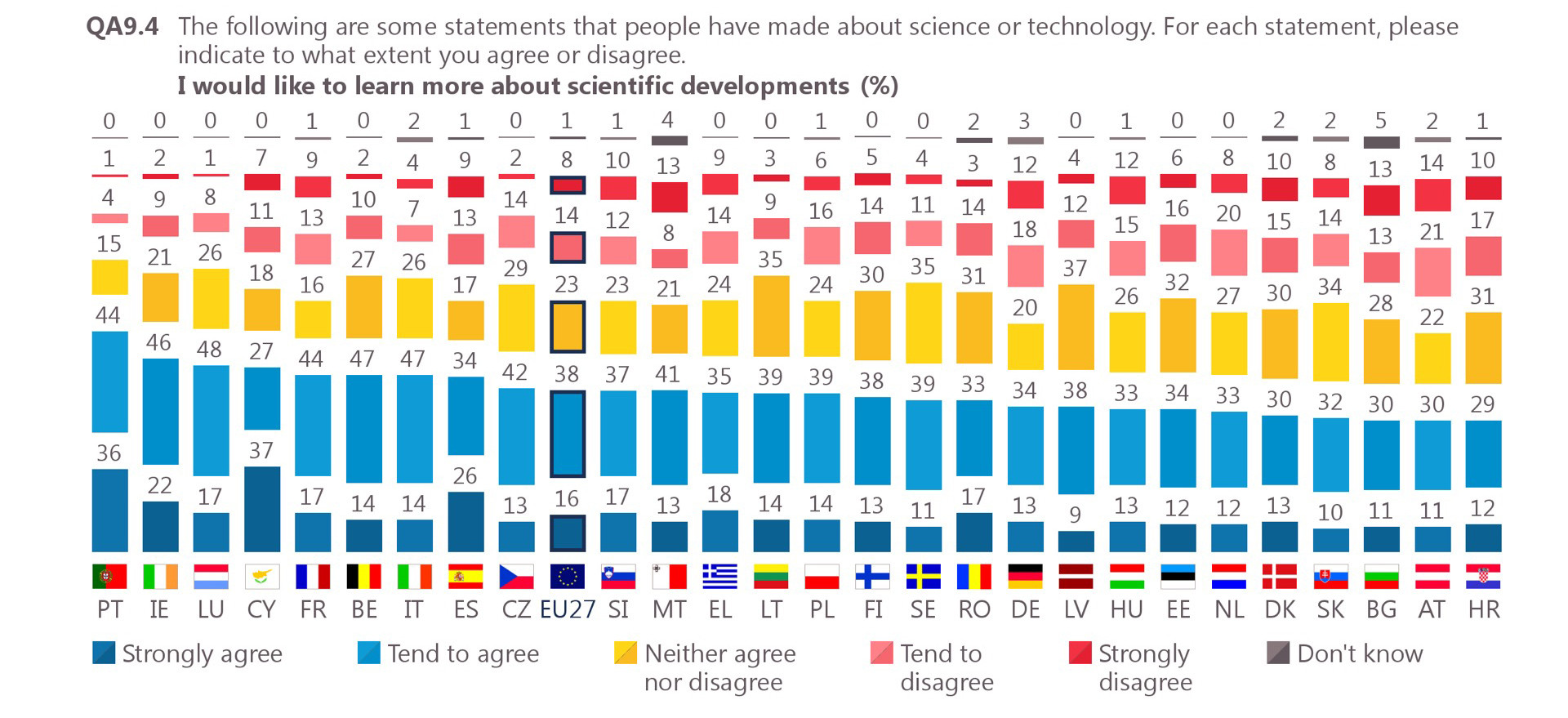 Influence of Science and Technology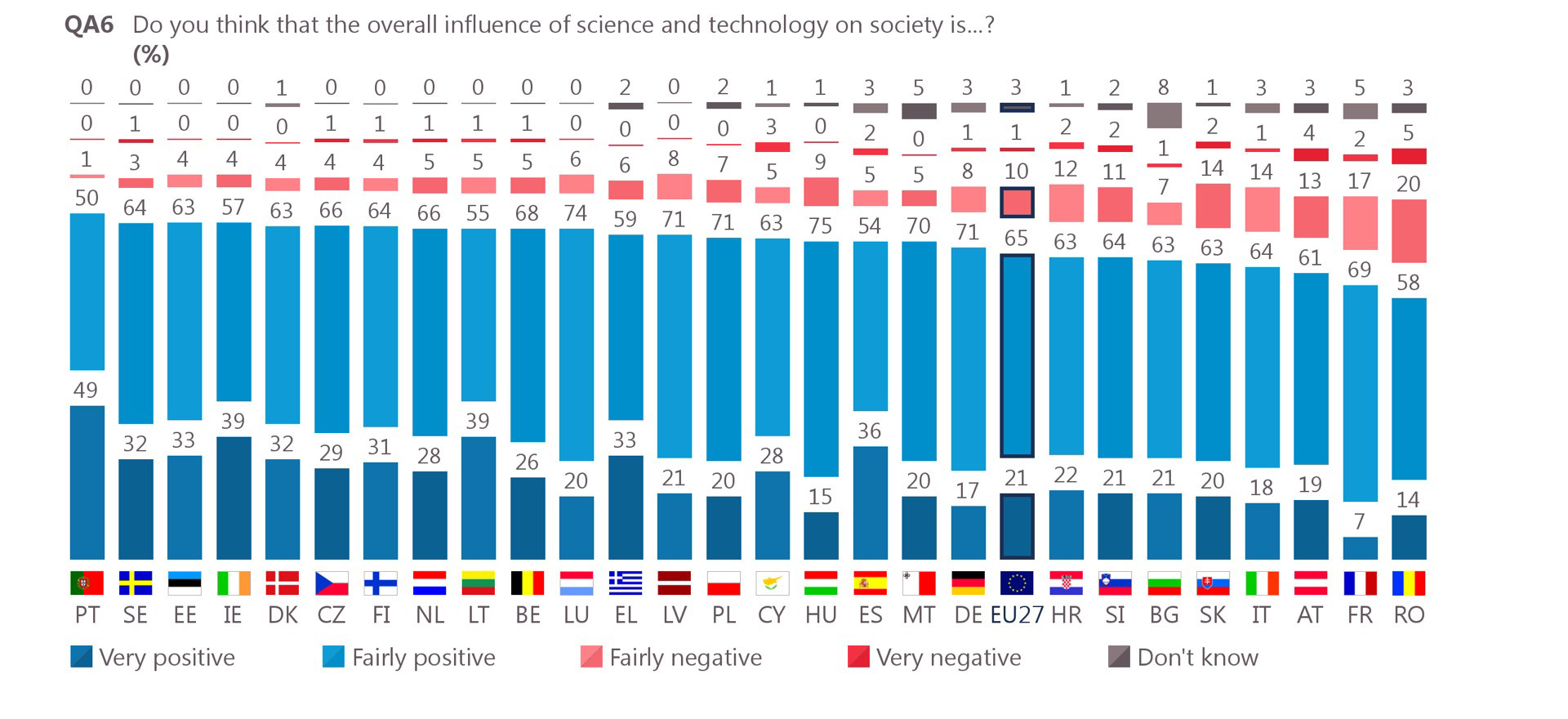 Trust in Science and Technology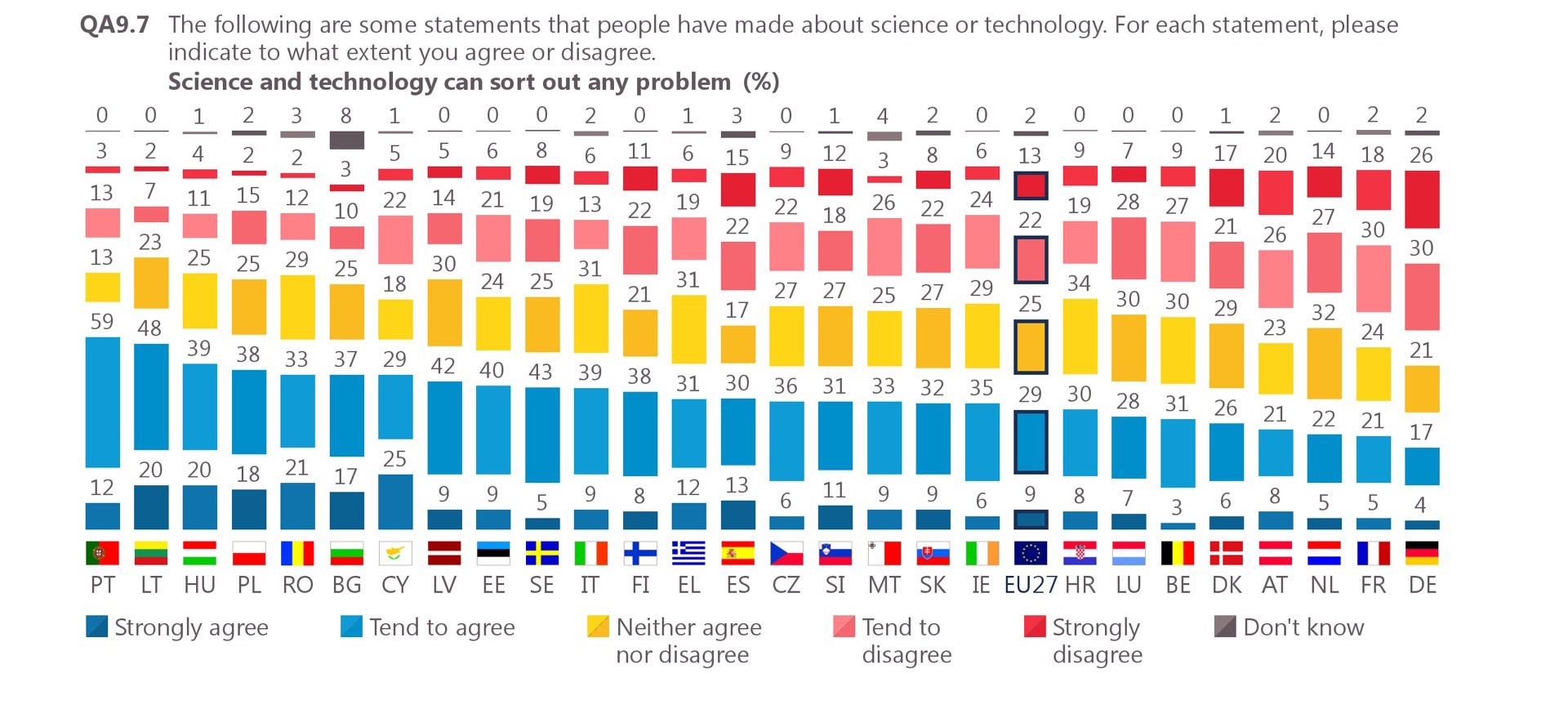 Visit Science and Technology museums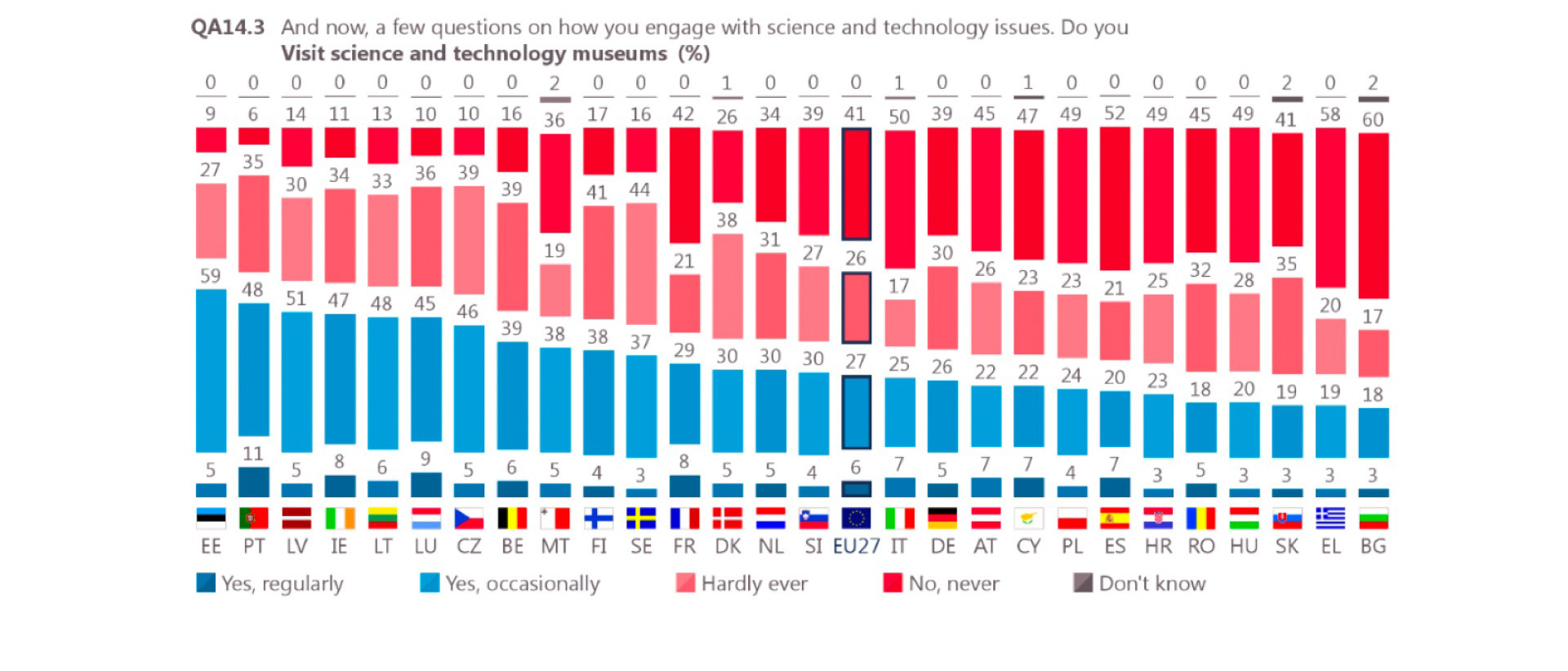 Visit Science and Technology museums
Visit Science and Technology museums